Debra Steinfelt!!
I am sobbing reading this story..
I cannot imagine the pain you went through Debra hunny!
Thank God for his great love, and blessing you with Hannah too! :)
I just called you-left a voicemail..
....................................................................................
Her Entry:
I was 35 and 15 weeks pregnant with our third child. Since I was AMA, advanced maternal age, I had to have some extra tests. I called them my "old lady tests". I had the usual blood tests to see if I had the indicators for some potentially fatal diseases and I did not. In fact the genetic counselor was giddy that I had such good results. I then had to have a 2nd degree ultrasound, it is a clearer ultrasound than the usual ultrasound. She told us we were having a girl and she was perfect. We have two boys so a girl was the icing on the cake! But the technician summoned the doctor and she told me I had a large fibroid, which is a benign tumor and it could put me in preterm labor. We were so excited about having a girl. A girl to have tea parties, to dress up and to play dolls with. My dream, the little girl dream was coming true. Now we could think of names!
In my 17th week I started to feel some pain in my upper leg. I thought it was just my muscles being sore from being pregnant. I went to the doctor's office after enduring this pain for two days. He said I was in preterm labor and that my baby was "not viable", those are two words I hope to never hear again. My fibroid had grown and was taking her blood supply. During the ultrasound she was pointing to the fibroid. She was alive and kicking, I could feel her move. I had done some research on fibroids and the info was mostly that "fibroids rarely cause any problems". So I was thinking no problem I just need to take it easy and everything will be okay. In fact I didn't tell my family because I was in denial and believed I could make it to term or close to term. Well that did not happen two days later I couldn't sleep so I went to the living room to watch some tv and hopefully fall asleep on the couch. I had planned to call the doctor and ask for some releif because the preterm labor was becoming more painful as the hours went by. I had to use the restroom and I felt the incredible urge to vomit. I hurled and out she came. I couldn't look; I was hoping it was something else. But as I looked down I could see her legs and the umbilical cord. I yelled for my husband but the dog, our precious dog Bear, came to my rescue. I called 911 and they were awesome. The er doc's were awesome as well. The only regret I have is that I did not see or hold her. But I do have footprints and those I will cherish forever. Our little Faith Noel, she was born and died Friday December 16, 2006 at 4:24am.
When I woke up at the hospital, my husband and mother in law were crying. I have only seen or heard my husband cry once before and we had been married for 18 years. It was the most heartwrenching sound. I stayed over night and that was probably the best thing for me. My doctor told me that I will get through this and I will help someone else that is going through this tragic event in their lives. I would never wish this on anyone even an enemy, thoug I don't have any enemies. My doctor was right I did help someone, my neice. That was really hard but I needed to help her because that helped me move on. I was in so much pain, feeling hopeless and numb. We were trying to conceive again and all I could think about is Faith Noel.
After many tries and tests, we had another miscarriage. We were spent so we decided to adopt. We went through the foster/adopt program with the Social Services. We had to go through and 8 week program, CPR training, a clean bill of health and some prodding of our brains. We got licensed November 29th, 2007 and I waited patiently for the phone to ring. Well it finally rang on Tuesday April 29th at 6:15pm. It was an angel on the other end. She told me that there was a baby girl born today and she needed a good home. We were so excited! She told me that she would call the next day and we would make arraingments for her arrival to our home. I went to Babies R'us and got some basics, so we could be ready for her. That night and day was forever...................... She finally called at 1:30 and she was going to bring her to our home around 4pm. She was perfect, my little burrito, the nurses had her all wrapped up. She had ten fingers and ten toes. She was beautiful and those eyes. It's funny she even looks like me, my nose, my eye shape and round face. We finally had our little girl. Hannah Grace she was placed lovingly in our arms April 30th, 2008. "Not born of my womb but born from our hearts"
The road to becoming her "forever family" has been a roller coaster but we are almost there. Her bio parents have rights, she was removed from them, and they fought the state's decision to sever their parental rights. They were granted visitation while their case was being heard. They were allowed to visit once a week, so a social worker would come to my house and bring her to social service for the visit. That was really hard but I knew that this is what was supposed to happen. This was a way for social service to build their case against them. They only showed up three times and did not show up to their courts dates. On September 8th the judge had had enough and ordered that their rights be terminated, which paved the way for the adoption process to begin. She will be our little girl forever Januray 12, 2009.
She is the sweetest baby and such a blessing in our lives. She has saved me from all that pain. I still think about Faith but I know she is heaven in my grandmother's arms. I couldn't imagine our lives without her she has filled my heart will so much love. Our family has been so wonderful throughout this process. I know they were all scared for us, hoping that it would all work out. I hear the adoption process is no picnic, lot's of paperwork and red tape. The toughest part is behind us, well until she is a teenager...................................
....................................................................................
Here is the special Deb won: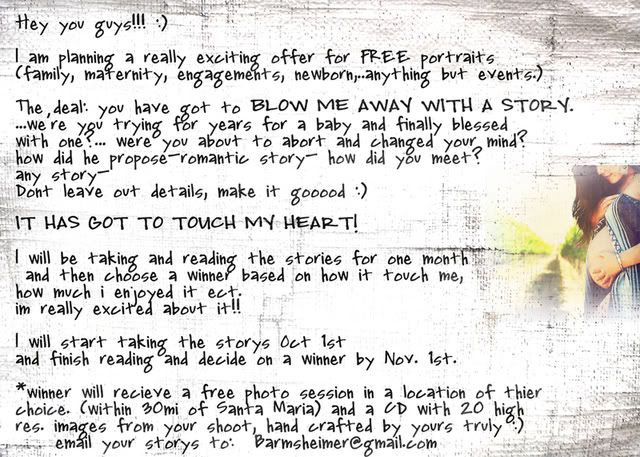 I will be doing this again folks so keep your eyes on! :)
xoxo
~Beth